Y'all Aboard!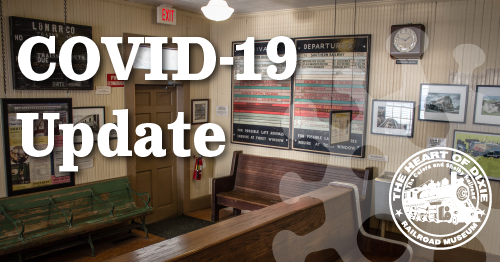 The Heart of Dixie Railroad Museum in Calera is happy to offer families a fun and safe place to enjoy time together!
The Museum volunteers and staff are eager to return to the normalcy of sharing their time on Saturdays with each other and with you – our beloved passengers.
Our team is being careful to follow the guidance of the CDC and our local health departments and will continue to do so throughout this evolving situation. In addition to all safety measures already in place, we wanted to share with you some of the actions we are taking to get back on track together at this time:
Using the coaches on our consist with the most easily sanitized seating. Passengers will be able to choose to ride in the open-air cars or in the enclosed and climate-controlled &bi-level Chicago & North Western Gallery car.
Restructuring the boarding process to facilitate car selection and social distancing guidelines. As always, please plan to arrive approximately 60 minutes prior to your departure to allow for a smooth and rush-free experience on our campus.
Reducing the passenger capacity of each car and number of guests allowed at a time in the giftshop, restrooms and ticket depot in order to meet current social distancing guidelines and provide added peace of mind to families.
Utilizing floor decals to remind guests in our ticket depot, giftshop, boarding queues and waiting lines to maintain social distancing protocols.
Having dedicated staff throughout the day solely responsible for sanitizing all high contact areas.
Enforcing wellness checks of all volunteers and staff members before each shift, including temperature checks.
Providing personal protective equipment to all Museum staff and volunteers who will be interacting with passengers. Passengers are expected to bring and wear face masks, as well.
Reinforcing staff handwashing routinely.
Having hand sanitizer stations available throughout the campus for guests.
Strongly encouraging contactless pre-purchasing of tickets online at www.hodrrm.org.
The Boone Library continues to be by appointment only. Please call 205-668-3435 or email info@hodrrm.org to request an appointment.
Mask Wearing is Required
Masks are required while aboard all Heart of Heart of Dixie Railroad Museum (HODRRM) trains and also while on museum property. This requirement is in compliance with an Emergency Order issued on March 1, 2021 by the Federal Railroad Administration (FRA). HODRRM operates as a Class III railroad (reporting mark: CSMX) which places it under the jurisdiction of the FRA.
Consider You Own Health Needs
We do encourage passengers to consider their own health needs and the needs of others prior to purchasing tickets to join us on the train. Within the last 14 days, if you have experienced unusual occurrences of fever, cough, shortness of breath or difficulty breathing, chills, repeated shaking with chills, muscle pain, headache, sore throat, new loss of taste or smell or nausea; traveled internationally or to other areas of the U.S. that were under "Shelter In Place" orders; had contact with a person with a positive or presumed positive COVID-19 case, please protect yourself and others by choosing to not ride the train at this time.
These are just a few of the changes we are making to protect your safety while at the same time providing the hospitality and enjoyable family time you've come to expect from us.
Looking Forward to Seeing You!
We encourage you to stay healthy and we look forward to seeing you on board the train at the Heart of Dixie Railroad Museum in Downtown Calera soon!