Visitors' Center and Gift Shop
One of your first stops on the grounds should be the Visitors' Center and Gift Shop! You'll discover a wide variety of railroad related gifts, souvenirs, collectibles and amenities for purchase, including snacks, soft drinks and bottled water. Restrooms can be found inside the north entrance to the gift shop.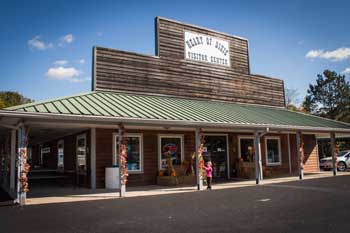 Find that special railroad gift
Purchase the perfect train toy, t-shirt, tote or original pencil sketch print for yourself or favorite railfan! Friendly museum volunteers will gladly assist you in finding that special railroad gift among items such as:
Railroad hats, train jewelry, apparel
Toy trains, children's books, train whistles
Videos, books, posters, puzzles
Coffee mugs, hat pins, patches, tin signs
And SO much more!
Purchases Provide Support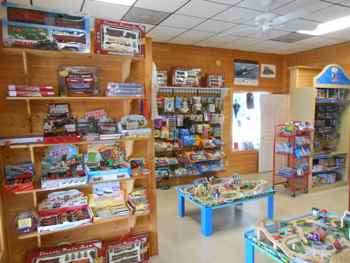 All proceeds received from gift shop sales support the mission of the Heart of Dixie Railroad Museum. These funds help to fund continuing efforts to preserve, protect, and operate the various railroad artifacts within the Museum's collection.
The gift shop currently does not currently offer items for sale by mail-order or online.
Squash A Penny!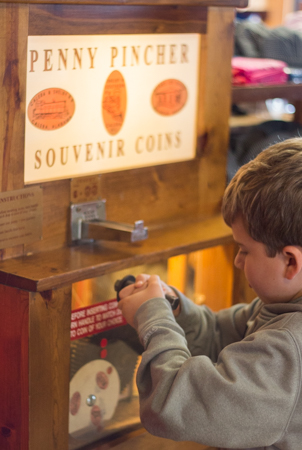 Placing coins on railroad tracks is always strongly discouraged due to the inherent danger it presents. However, the gift shop's vintage penny press offers visitors the choice of three custom museum train designs to manually press onto a penny, providing a fun, inexpensive and safe custom souvenir to take home.
Come Shop the Gift Shop!
Tuesday - Thursday 9:00 AM - 2:00 PM
Fridays 9:00 AM – 2:00 PM
Saturdays 9:00 AM- 4:00 PM
Closed Sundays and Mondays except during certain special events.