A Romantic Way to Enjoy the Fall Colors!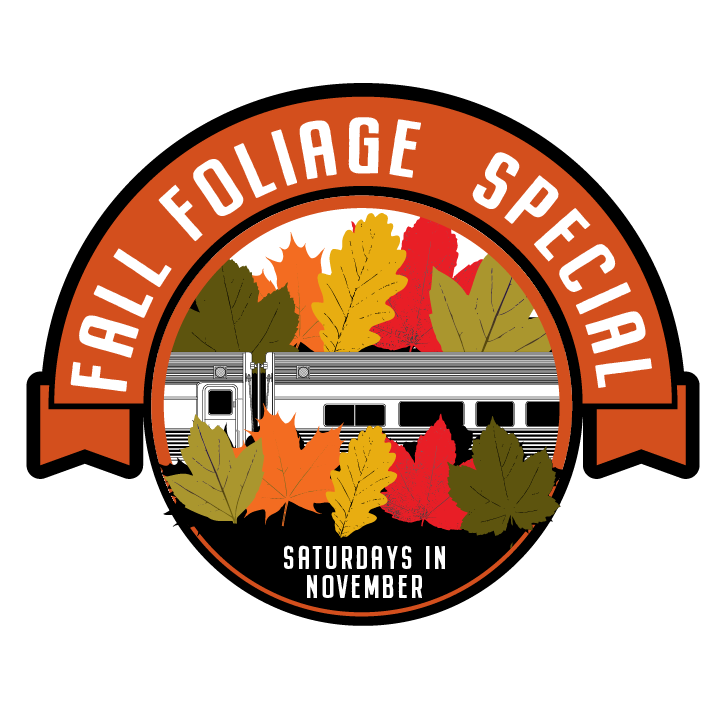 When the air becomes crisp and the green trees begin to turn crimson and orange, everyone in the South knows two things are coming: fall foliage and SEC football. Truly, autumn in Alabama brings the beauty of the season unlike anywhere else in the country. Come to Calera to ride the rails of the old Alabama Mineral Railroad and enjoy the season's changing colors as you never have before.
The train ride lasts approximately 75 minutes. Wear your favorite team colors and quickly discover there simply isn't a better way to enjoy the season. Y'All Aboard!
Event Dates
Saturday: October 28
Saturday: November 4
Sunday: November 5
Departure times:
Saturdays

10:00 a.m.
1:00 p.m.
3:00 p.m.

Sunday *All times Central
Event Details
Expect to depart the Depot promptly on schedule.
Please plan to arrive on the Museum grounds at least 60 minutes prior to your selected ticket time in order to:

Pick up your tickets from the Depot
Participate in the activities on the grounds.
Utilize the restrooms at the Giftshop

Boarding will occur approximately 15 minutes prior to each scheduled departure.
Tickets may be purchased in advance online or may be purchased as available on the day of the event prior to boarding at the Calera Depot.
Ticket Prices
Adults - Ages 12+: $18
Children - Ages 2+: $18
Seniors - Ages 65+: $17
Infants - Under 24 months: Free
Wheelchair spaces: $18
Caboose tickets: $28
Locomotive tickets: $38
Military/Veteran - With ID: $17
National Historic Railroad Society (NRHS) members: $17
Get Tickets!
---
Top
Important Ticket Information:
Train tickets are non-refundable. However, our ticket team will attempt to apply any unused travel funds towards the cost of an available alternate upcoming train ride within the same calendar year. No guarantees of available alternate options can be made during the last quarter of the year, as the holiday events typically sell out early. All tickets and unused travel funds will expire after the last train of the calendar year season and cannot rollover into the new calendar year. No exceptions. Some exclusions may apply. Contact tickets@hodrrm.org for more information.
Visitor Tips
The train crew strives to keep all train departures precisely on schedule. Plan to arrive approximately 60 minutes prior to your scheduled departure to provide you with enough time to be in position for timely boarding.
There are no working restrooms on our vintage rail cars. Please ensure adequate time to use the restroom at the Gift Shop prior to boarding.
Outside food and drinks other than bottled water are only permissible in the open-air cars and are not allowed in any historic enclosed coach.
Passengers may select their preferred train car at boarding. Seats are unassigned onboard the train.
Infants under 24 months old may ride free of charge but must remain in an adult's lap. For your safety, strollers and infant car seat carriers are not permitted aboard the train.
ADA Accomodations Onboard
Secure seating accomodations are provided onboard the Long Island No. 2972 and Open Air Car No. 1121. Reserve seating for these limited spaces is available at the time of ticket purchase.
Any passenger with limited mobility may board our coaches at the Calera Depot using of our Mobilift system, by Adaptive Engineering Inc.. To make use of this, please inform the ticket agent when picking up your tickets.
The boarding platform for Ozan Station was built specifically to ease access for riders with limited mobility. Riders are able to step, or roll, directly coach onto the station's platform which also provides a ramp descending from platform level to ground level
NOTE: A person in your party must be in a wheelchair to purchase the wheelchair space ticket. This is only a secure space for a wheelchair, no seat is provided. More information about the museum's accessibility and ADA compliance can found on our ADA Information page.
Stay on Track!
Our team has worked hard to ensure a safe and relaxing time for your family onboard our train. Please be sure to follow all verbal directions from your Conductor or Car Hosts and adhere to all posted safety and sanitation guidelines on the train and throughout the grounds.