Round Up the Young'ns for some Family Fun!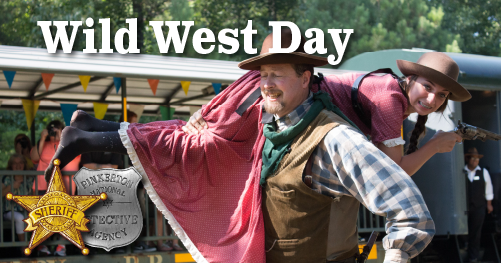 Kick up your boots and take a journey by train into the Wild West! Watch the onboard and outdoor Western theatre reenactment story about a runaway, a gang of ruffians, a father's pursuit and see if law and order can be reestablished onboard the train!
The train ride and outdoor theater performances down the tracks last approximately 75 minutes. Food vendors, lawn games and photo opportunities will be available on the Museum grounds, as well.
Claim Your Front Row Seats with Priority Boarding Upgrade
New this year is the opportunity to upgrade Priority Boarding passes to get first selection of seats on the train! The best view for the outdoor theater performance is located on the south sides of the Open Air cars and open-window Frisco car. Each Priority Boarding ticketholder will be allowed to board the train before general boarding begins. Limited availability. Upgrade tickets for $2 more per ticket.
Event Dates and Departure times:
July 22, 2023

10:00 a.m.
1:00 p.m.
3:00 p.m.
July 23, 2023

1:00 p.m.Added by demand!
All departure times are CDT
Event Details
Boarding begins 15 minutes before scheduled train departure.
Tickets may be purchased in advance online or may be purchased as available on the day of the event prior to boarding at the Calera Depot.
Ticket Prices
Adults Ages 12-64 – $18
Children Ages 2-11 – $18
Seniors Ages 65+ – $17
Priority Boarding Upgrade – $2
Infants – Free
Wheel Chair Seats – $18
Caboose Tickets – $28
Locomotive Tickets – $38
National Historic Railroad Society (NHRS) Members – $17
Get Tickets!
---
Top
Important Ticket Information:
Train tickets are non-refundable. However our ticket team is happy to apply any unused travel funds to a train ride at a different date/time in the same operating season (March-October).
Infant Tickets
Infants under 24 months old ride free of charge, but must remain in an adult's lap at all times. For your safety, strollers and infant car seat carriers are not permitted aboard the train.
Stay on Track!
Our team has worked hard to ensure a safe and relaxing time for your family onboard our train. Please be sure to follow all verbal directions from your Conductor or Car Hosts and adhere to all posted safety and sanitation guidelines on the train and throughout the grounds.
Limited Accessible Seating Available:
Except for certain special events, if someone in your party needs to reserve a space for a wheelchair, please add all other passengers' tickets to your order first and at checkout, you will be asked to add the ADA space reservation to complete your order.
ADA Accomodations Onboard
Secure seating accomodations are provided onboard the Long Island No. 2972 and Open Air Car No. 1121. Reserve seating for these limited spaces is available at the time of ticket purchase.
Any passenger with limited mobility may board our coaches at the Calera Depot using of our Mobilift system, by Adaptive Engineering Inc.. To make use of this, please inform the ticket agent when picking up your tickets.
The boarding platform for Ozan Station was built specifically to ease access for riders with limited mobility. Riders are able to step, or roll, directly coach onto the station's platform which also provides a ramp descending from platform level to ground level
NOTE: A person in your party must be in a wheelchair to purchase the wheelchair space ticket. This is only a secure space for a wheelchair, no seat is provided. More information about the museum's accessibility and ADA compliance can found on our ADA Information page.
Restrooms
There are no working restrooms on our vintage railcars. Please use the restroom at the Gift Shop prior to boarding.