North Pole Express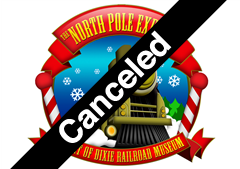 All aboard! Join us for a magical trip to the North Pole!
"All Aboard" says the conductor, and your family's journey begins to the North Pole! Through the dark night, the magical train makes its way to the top of the world! Upon arrival at the brilliantly decorated North Pole, Santa, Mrs. Claus, and the elves board the train to visit with your family and give each child a keepsake! Be sure to bring your camera to get a photo of your family with Santa and Mrs. Claus! You'll enjoy chocolate milk and cookies, sing Christmas songs, and listen to a special Christmas Story! The North Pole Express will make lasting Christmas memories for you and your family! For even more fun, be sure to wear your pajamas!
Coach Class
You'll enjoy chocolate milk and cookies and sing Christmas carols. Listen to a special Christmas story and receive a Christmas gift!
First Class Service!

The Silver Maple chair car 4741 and the Kayenta chair car 4700 will offer first class service hot chocolate in a souvenir mug, special dessert treat, special keepsake and specialized service!
Live Entertainment!
Enjoy live musical entertainment when you ride with the entertainer in the Chicago & North Western (C&NW) Gallery Car 59 – A End. Take a front row seat as the entertainer sings Christmas songs and reads a special story for everyone on the train!
Dates & Times
Fridays, Nov. 20, 27 Dec. 4, 11, 18
– Departure Times: 5:00 pm, 6:30 pm, 8:00 pm
Saturdays Nov. 21, 28 Dec. 5, 12, 19
– Departure Times: 5:00 pm, 6:30 pm, 8:00 pm
Sundays Nov. 22,29 Dec. 6
– Departure Times: 5:00 pm, 6:30 pm, 8:00 pm
Sunday December 13
– Departure Times: 5:00 pm, 8:00 pm
Tickets
Tickets sell quickly so immediately so advanced purchase is essential!
Tickets go on sale July 13, 2015 for groups of 20+
Tickets go on sale July 27, 2015 for individual tickets
| Coach Class | C&NW - A End (Live Entertainer) | First Class | Coach - Infant* |
| --- | --- | --- | --- |
| $27 | $37 | $47 | Free |
Please Note:
Above prices include taxes but not convenience fee. $3.00/ticket purchased on web or $4.00/ticket if purchased through the ticket call center at 205-757-8383.
Tickets will not be available at the museum's office.
You will have a ticket confirmation emailed to you after purchase. Please print this out and bring to the Calera Depot ticket window on the night of your ride so as to pick up your tickets.
If you never received or have lost your ticket confirmation, call the ticket center at 205-757-8383 or email us.
If you created an account with Whistle Tix during your purchase, you can click here to log on to view your account.
Infant Tickets
Children 0-24 months ride free of charge though required to sit in an adult's lap at all times. When ordering your tickets, select "Coach Infant" for no additional charge. If you did not order an infant ticket with your initial order, notify the ticket agent upon your arrival at the Calera Depot that you have a child 0-24 months that will sit in your lap, and you will receive an infant ticket. For your safety, strollers and infant car seat carriers are not permitted aboard the train.
Wheelchair Accessibility
Our train has wheelchair accessible accommodations on the Long Island 2972 and Open Air Car 1121. Wheelchair loading and unloading occurs at the Calera Depot with a MobiLift wheelchair lift. We do not have wheelchair boarding capabilities at stops such as Ozan Winery, Cottontail's Meadow for the Cottontail Express, or the Pumpkin Patch for the Pumpkin Patch Express. Note: A person in your party must be in a wheelchair to purchase this ticket. This is only a space for a wheelchair, no seat is provided.
Click here for more accessibility information.
Restrooms
There are no working restrooms on our vintage railcars. Please use the restroom at the Gift Shop prior to boarding.
For More Information
Need more information? Please read over the North Pole Express Frequently Asked Questions!
Tickets and Event Information are available through the ticket call center at 205-757-8383.
We can be reached by email at [email protected].