North Pole Express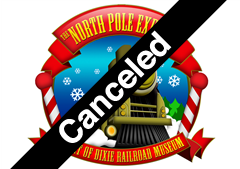 All aboard! Join us for a magical trip to the North Pole!
"All Aboard" says the conductor, and your journey begins. Through the dark night, the magical train speeds to the top of the world!
Upon arrival at the brilliantly decorated North Pole, Santa, Mrs. Claus and the elves board the train to visit with everyone, so be sure to bring your camera!
Wear your Christmas pajamas!
Coach Class
You'll enjoy chocolate milk and cookies and sing Christmas carols. Listen to a special Christmas story and receive a Christmas gift!
First Class Service!

The Silver Maple and the Kayenta offer First Class service - hot chocolate in a souvenir mug, special dessert treat, and specialized service. Listen to a special Christmas story and receive a premium Christmas gift!
Live Entertainment!
C&NW - A side passengers will see and interact with the on board entertainer provideing the carols, story, and good cheer for the rest of the train!
Dates & Times
Fridays, Nov. 20, 27 Dec. 4, 11, 18
– Departure Times: 5:00 pm, 6:30 pm, 8:00 pm
Saturdays Nov. 21, 28 Dec. 5, 12, 19
– Departure Times: 5:00 pm, 6:30 pm, 8:00 pm
Sundays Nov. 22,29 Dec. 6
– Departure Times: 5:00 pm, 6:30 pm, 8:00 pm
Sunday December 13
– Departure Times: 5:00 pm, 8:00 pm
Tickets
Tickets sell quickly so immediately so advanced purchase is essential!
Tickets go on sale July 13, 2015 for groups of 20+
Tickets go on sale July 27, 2015 for individual tickets
| Coach | C&NW - A Side (Live Entertainer) | First Class | Under 2 Years* |
| --- | --- | --- | --- |
| $27 | $37 | $47 | Free |
*Please note: children who have not yet celebrated their 2nd birthday do not require a purchased ticket; however, you will be required to hold them on your lap. Please notify the ticket agent when you pick up your tickets in the depot on the evening of your North Pole Express trip that you have an infant with you.
Note: Above prices include taxes but not convenience fee. $3.00/ticket purchased on web or $4.00/ticket if purchased through the ticket call center at 205-757-8383.
Tickets will not be available at the museum's office.
You will have a ticket confirmation emailed to you after purchase. Please print this out and bring to the Calera Depot ticket window on the night of your ride so as to pick up your tickets.
If you never received or have lost your ticket confirmation, call the ticket center at 205-757-8383 or email us.
If you created an account with Whistle Tix during your purchase, you can click here to log on to view your account.
Very limited number of tickets remain. However, please check back periodically because additional tickets may become available due to refund cancellations as the scheduled event date approaches. These tickets will be immediately available on the Ticket Page.
Follow us on Facebook, Twitter and monitor our website for information about North Pole Express 2015!
For More Information
Need more information? Please read over the North Pole Express Frequently Asked Questions!
Tickets and Event Information are available through the ticket call center at 205-757-8383.
We can be reached by email at [email protected].
Miss getting tickets to the North Pole Express? Make sure to check out our 1 hour day excursion where Santa visits with you on the Santa Special!